BajuJET LX – DTG Printer
Direct-To-Garment Printer - prints on t-shirt and shoes too!
BajuJET™ LX prints on many cotton or cotton-polyester blend items such as t-shirt, apron, towel, tote bag, jeans and even shoes. This opens your business to a wider market and different genres of customer.
Multi-Size & Multi-Up platens to maximise your profit.
When investing into a DTG printer, one must study the exact maintenance procedures. BajuJET™ LX features some of the really time-saving and worry-free maintenance systems:
"Z-axis allows motorized and manual height adjustment of up to 1.5" or 38mm, which helps to accommodate different item thickness to be printed without risking the print head strike."
rIP SOFTWARE ADVANCED FEATURES
Solid Background Removal Tool 
NEW!
Colour Expand Feature
BajuJET™ LX now comes with the greatest feature of DTG one could ever have. CMYK or colour layers can now be expanded slightly to cover any white ink layer that is distorted and extended over the edge during the printing process.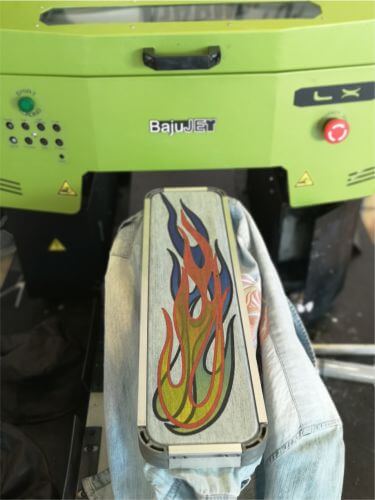 Copyright © 2019 by Hongjet Technology Sdn. Bhd.